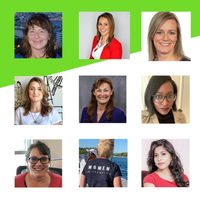 The WiD Leadership team was out in force at KuppingerCole's CusTech 2020 from 20-22 October.
In a series of sessions across the event, we shared practical tips to encourage better leadership around DEI and considered ways to identify and control unconscious biases when building identity systems that work for ALL customers.
Some of the highlights included 2 great workshops both of which prompted follow up activity. we are actively looking at how we can get more of these sessions out into the public. Watch this space!
Identifying and Breaking Potential Bias in Identity Systems
A great interactive session led by Colette d'Alessandro and Esther Hoeksema where attendees interacted with the WiD leadership team in small group discussions to share ideas on how to remove bias in identity systems.
Learning Path to Identity Diversity
This session, led by Kay Chopard-Cohen, Diane Joyce and Karyn Bright focused on practical ways to make change. We concluded that change needs to start with our individual personal behaviour. From there we can grow into looking at the way our work groups and organizations operate. Try simple tactics like stopping yourself from speaking (if that is what you do!) and asking for the opinion of someone who often goes unheard. Or physically setting down your pen as a reminder to listen! Often the most subtle acts are the most powerful when building an inclusive environment.
The positive response from audiences was a great indicator that we are seeing a general shift from simply understanding why diversity is important to understanding how we can create diverse environments and champion those that are underrepresented.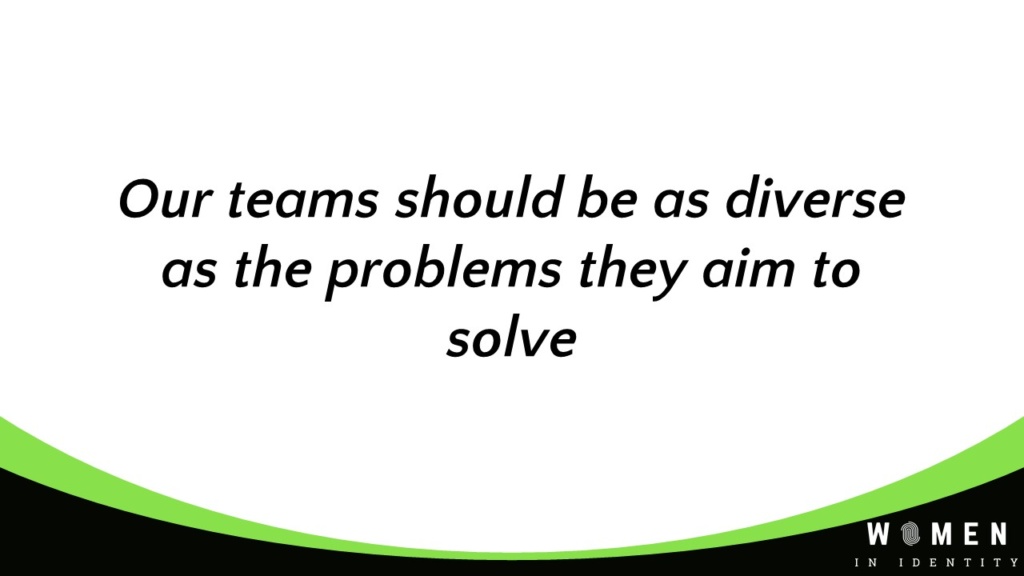 Designing for Diversity
The keynote session with Canadian team leaders, Chanda Jackson and Nicole Landry, gave a great foundation for understanding the impact of bias and what it means when you're looking to develop identity systems that are genuinely intended to work for everyone.
Customers and the Identity Experience
This final panel brought things full circle, reminding us all that ultimately we are trying to build systems that work for ALL our customers - regardless of their race, gender, financial status or their physical or technical ability. Ably moderated by Nicole Landry, Dia Banerji, Diane Joyce and Louise Maynard-Atem reminded us that while employees may be 'stuck with' a bad user experience (UX), our customers have a choice! The past year has seen the identity sector move faster than ever thought possible with products rolling out to meet new sector demands. The team challenged that we may not always fully consider UI/UX needs across the full intersectionality of humanity when doing so. KuppingerCole dubbed this session a "Powerhouse panel!"
This gave the Women in Identity team a great opportunity to work with colleagues across different geographies and time zones – a truly global event.
We look forward to more great opportunities and encourage ALL our members to get in touch if you'd like to be part of future discussions. Interested? Why not update your Women in Identity profile with the topics that interest you most - we'll be in touch!
Author
Kay Chopard Cohen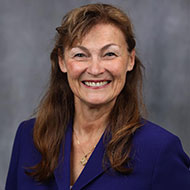 Currently the president of Chopard Consulting based in Northern Virginia, Ms. Chopard has more than 35 years' experience in executive leadership in business and nonprofit organizations in Washington, D.C. She has a reputation as a transformative leader who has led organizations through launch, transition, and sustainability to deliver aggressive results. She is committed to achieving success through courageous management practices by leveraging organizational strategy, structure, and culture to reach goals and optimize results.
Ms. Chopard excels at building networks and collaborations and is accustomed to getting a seat at the table where she is known to "lean in" with clarity of thought, vision, and enthusiasm. Ms. Chopard has recently accepted the position of U.S. Ambassador for the Women in Identity organization and brings her devotion and expertise to the leadership team to further encourage women in the identity field and the broader tech industry. Ms. Chopard is also an attorney and has practiced at the local, state, and national levels of government before leading several international nonprofit organizations as executive director.
---