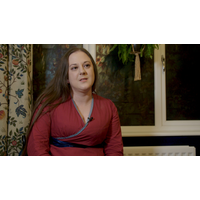 "It's incredibly important to have agency over your own life … without an ID you lose the person who you are. In finance, you lose the ability to make choices, sign forms, earn money, open bank accounts, rent or buy a house. The impact of not being able to do all this is huge." Fuchsia, Candidate Care, AMS
We commissioned

Caribou Digital

to research the Human Impact of Identity Exclusion. As part of that work we spoke to Fuchsia (project launch

shared here

). Our research involved speaking to users and experts in the identity space. Fuchsia, who works in candidate care for a major retail bank, was

both

a user and an expert . Physically disabled, she also lives with neurodivergence, autism, and dyslexia, all of which affect her interactions with institutions. At various times, this has impacted her ability to obtain an ID (including a driving licence and a passport). Even after she obtained identification, Fuchsia faced challenges using her IDs for financial inclusion:
"I felt exclusion very viscerally … just to give you an example ... there was a bank [near where I live] that I couldn't get into because it was up three stairs and there was just a little bell to push. The banking clerk would have to come out, take all my identification, take my bank cards, take my money, go back and do my banking for me and leave me there with all my belongings gone. And I found that so uncomfortable

to the extent that I would actually drive to another town to go and do my banking, because I did not want those things leaving my sight."
Fuchsia's experiences illustrate the

strong relationship between ID and identity

—IDs define us, but they are also a pathway to having

"agency over your own life,"

as Fuchsia says.

On top of that, Fuchsia's interview shows that IDs are also very much physical, despite current debates on digital identity;— as Fuchsia said,

"I did not want those things leaving my sight"

.
Fuchsia: Photo Credit Habitus Insight
From our interviews with ten identity experts and twenty users in the UK and Ghana (five experts and ten users in each country), we conclude the following:
There is a strong need for a global

Identity Code of Conduct

to address the human impact of identity exclusion, particularly in accessing financial services.

Identity exclusion is experienced by certain demographics: those who are older, or youth, those living with physical disabilities or mental health challenges, those who are unhoused or are on the move, refugees or newly arrived migrants, those who are transgender or enacting name changes, and ethnic minorities. Women also experience exclusion disproportionately compared to men.

Factors that constrain a user's ability to obtain ID include: a lack of finances, lack of breeder ID (e.g., birth certificate), poor knowledge, difficulties in circumstances impacting the ability to pursue an ID (e.g., disability), and changes in legislation. In Ghana, for example, the mandatory requirement of a biometric ID to register a mobile phone SIM card is proving problematic for many users who cannot access the ID registration service (e.g., because they live too far from an urban centre).
We are calling for an Identity Code of Conduct based on some fundamental principles arising from this research.

These lie in acknowledging that:
The user is at the centre of an ID ecosystem. There is not just one, but many, interrelating ID systems. As one expert in Ghana put it:

"I think every new government tries to solve the identity problem, but the problem just becomes more complicated. They create new ones and the old ones don't work well with them."

We need to acknowledge that identity systems are not built in a vacuum or on a blank slate.

Social norms are changing and we need to acknowledge these. For example, not everyone will have a passport or driving licence, credentials that are often considered key IDs for financial inclusion.

We need to move towards proportionality (only needing to show the minimum ID required), tiered Know-Your-Customer, and e-Know-Your-Customer in financial inclusion (drawing from other government data) to reduce the burden of identity on the user,

Identification may be individual, but we live in networks of people that already know us—we need to better account for delegated authorities and intermediaries.

It is essential to build diversity in ID or ID-based design and development teams in order to understand the breadth of experiences users have and build empathy for users.
This research was fundamental in understanding the landscape and human impact of identity exclusion. As Research Director Louise Maynard-Atem puts it,

"The lack of diversity and inclusion in identity systems and how they affect access to even basic financial services is a widely discussed problem. But the actual human impact is often far less well-understood. This work highlights the stories and struggles of those who have faced exclusion firsthand."
Building on this research, we are planning the following workstreams to expand our work on the

Identity Code of Conduct:
1. Report on Economic Impact of ID Exclusion

that frames the foundational econometric model to measure the cost of exclusion and the datasets required to build a benchmarking tool.
2. Develop an Identity Code of Conduct

by consulting with solution providers and users on what guidance they need to support them and how this could be best implemented.
3. Develop an Implementation Framework

to illustrate the Identity Code of Conduct in practice, which shows the design of a new (fictional) ID system with critical decision points and key questions (as defined in the Code of Conduct) that need to be considered at every stage of ID product development.
Read more about this project at

ID Code of Conduct

and follow us at @womeninID @WomenInIdentity @CaribouDigital #DiversityByDesign #ForAllByAll #IDCodeofConduct #IdentityExclusion
Download the Human Impact of Identity Exclusion' report here.
---