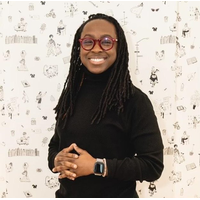 What do you do and what is it about your job that gets you out of bed in the morning?
I'm a Solutions Engineer at Onfido, a digital identity company. Solutions engineers are the technical experts of the sales team who work alongside Account Executive's to understand clients pain points, present relevant products to clients and answer any technical questions they may have. Every day is different, but consistently what gets me out of bed is:
The diversity of deals I get to be a part of. Every day I get to speak to a range of companies–from crypto, to transportation, to dating apps–and it grants me exposure to all kinds of knowledge and people.

Helping people in a consultative way. I have always loved to give advice, and this job allows me to give advice externally to potential clients and internally to our product teams funneling concepts for product innovation and feedback from the market. Educating people and being a part of helping them make sound decisions makes my days feel meaningful.
And last but not least - comi$$ion
How did you get to where you are today?
Once upon a time, there was a young professional working in private equity who felt unfulfilled. Taking the leap of faith, I applied to a bootcamp, got accepted with a scholarship and quit my job.
One fateful day, while taking a train line (I live in NY btw), I struck up a conversation with a man looking at a course on a software engineering principle. Upon asking if the man was an engineer, I was surprised to learn that he was a Solutions Engineer at a company called Onfido. At that point I had never heard of such a role or the company Onfido. Intrigued, I asked to learn more and was immediately sold on the idea. Shortly after I applied with his referral and was hired, starting in Product Operations before eventually moving into my current role as a Solutions Engineer. Fun fact, he remains an active mentor in my career to this day.
And just like that, a chance encounter led down a path towards career fulfillment.
What is the most important lesson you have learned along the way?
As part of a minority community, I've learned that information doesn't always make it to everyone–but that doesn't mean we should give up on gaining knowledge and understanding. Instead, I embrace and lean into my curiosity and constantly ask for the "why." This relentless curiosity has been a valuable asset in my career, allowing me to truly understand the unique needs of each individual I interact with. Embrace your inner detective and stay curious, my friends. It just might lead you to unexpected discoveries and endless possibilities.
What's your pitch to CEOs in the identity space? What do you suggest they START / STOP / CONTINUE doing and why?
Stop: Focusing so much on what your competitors are doing and be more focused on what the users you're serving need.

Start: Building products with anti-bias at the forefront, versus it being an afterthought. Anti-bias should be something woven into the soul of your products from the moment they are born, not only because it should be important to everyone, but also because it's much harder to weave it in later.

Continue: To trust Onfido as your partner on all things digital identity.
In one sentence, why does diversity matter to you?
Onfido's mission is to make digital identity simple for everyone and that can't happen unless our product can serve everyone.
What book/film/piece of art would you recommend to your fellow members? Why?
As someone who works in Sales I'd recommend "How to win friends and influence people" by Dale Carnegie and "Never split the difference" Christopher Voss and Tahl Raz. These books create great frameworks for anyone in any role, as they help understand people and how you can navigate conversations with them to achieve the outcome you're looking for.

As someone who is relentlessly curious, I recommend exploring philosophical works. One of my favorites is: The Tao of Ru by The Rza.

I also appreciate different perspectives so I would also recommend Jubilee's middle ground series on YouTube.
What advice would you give to the teenage 'you'?
Your gift will make room for you. What comes to you naturally can't be said for everyone, and therein lies your superpowers.
Where can we find you on social media / the Web?
LinkedIn - Imani Alexis
---