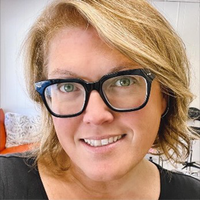 What do you do and what is it about your job that gets you out of bed in the morning?
What gets me out of bed in the morning is multi-faceted. First, I have the honor to work for a large organization which inspires passion and purpose – for myself and our team members globally. We are committed to fostering an environment of diversity, equity, and inclusion, providing access to development and advancement opportunities, and its commitment to our communities.
I also get to support one of the top global healthcare organizations, knowing the work that I do in cyber is making an impact by protecting their global brand, building trust, which in turn protects patients around the world.
Finally, being a strong advocate and support for our Women in Cyber community, is something that is very near and dear to my heart. This community supported me in my earlier career and connected me with women facing similar challenges. Our group continues to grow and make a positive impact, which I see daily through my 1:1 interactions with the members in my role as a mentor and performance leader.
As a woman in technology, to be a part of paving the way for other women, for making a tangible impact on people globally, and to do it amongst peers I'm proud to call friends… it's so much more than a job, I get out of bed for passion and purpose, I don't mind the paycheck either.


How did you get to where you are today?
Speaking up and sharing what I am looking for in my career has been a huge component to how I got to where I am today. Going after what you want and not waiting for opportunity to be offered to me. When opportunities have been proposed to me, I have also needed to maintain an open mind which has led to taking on roles I may not have thought of taking on myself. Instead of saying no to opportunities that may not have aligned with where I envisioned my next step to be, I looked at each opportunity in the light of what would it offer me and based my decision on the value it could add to my career development. These weren't always easy decisions, there was always some risk associated with them, I'm very thankful for the mentors and sponsors who freely shared their thoughts but ultimately let make my own decisions, and a few mistakes, along the way.


What is the most important lesson you have learned along the way?
The art of saying no. I would be categorized as a people pleaser, and naturally want to solve people's problems, and I have consistently demonstrated results over the course of my career. At some point, however, I realized to achieve my own goals, I needed to prioritize myself and focus first on saying yes to tasks that aligned to my own goals, and sometimes that means saying no to things that don't align with where I need to go. We only have so many hours in the day, if we say yes to everyone, eventually we deprioritize ourselves.


What's your pitch to CEOs in the identity space? What do you suggest they START / STOP / CONTINUE doing and why?
I think we all get excited when we are introduced to new technologies in this space. However, it's important to take a step back and understand your business drivers and make sure that the tools that you are integrating into your ecosystem are going to address your business challenges and needs. In your planning, make sure to include the change management required to maximize your business investment and ensure that end users/business owners have been engaged and considered throughout the entire program lifecycle.


In one sentence, why does diversity matter to you?
Having experienced an environment where diversity was lacking, and knowing first-hand the struggles of not having role models that looked like me and the associated support network, I've devoted myself to building a platform/community to provide just that.
What book/film/piece of art would you recommend to your fellow members? Why?
When I fist went to answer this question I thought of past walks through museums, books I curled up with, but my reality today (which feels more distant from those peaceful memories, thanks to Children and COVID) is much more focused around my children. My eight-year-old daughter and I have been watching Netflix's Lemony Snicket's A Series of Unfortunate Events and we've had so many laughs and great conversations brought on by the series.


What advice would you give to the teenage 'you'?
Only care about the opinions of the people you care about.


Where can we find you on social media / the Web?
Katie (Iovino) Boswell | LinkedIn
---