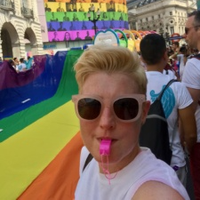 I grew up in the suburbs of Melbourne, Australia, raised a Catholic by Mum and Dad and attended church until I left secondary school at age 17. Looking back on it now, it was obvious from a young age that I wasn't 'straight'. You know the type… a tomboy; never liked dolls; played lots of sport; was the first girl ever to make the cricket team in primary school. Despite all the obvious 'signs', I didn't realise my sexuality until I was in my early 20's and, even then, it took a few years for me to pluck up the courage to do anything about it.
I recall my prevailing emotion was shame. I was scared of being rejected by my family.
Sometimes in life you need a little help and mine came in the form of (my now best friend) Jon. I met him through my first proper job working at BP. He was out and he was confident and he helped me to take those first furtive steps out of the closet.
Together with Jon, we managed to find our tribe, a group of misfits if ever you saw them. We loved to dance and would hop from gay bar to gay club every weekend. I felt safe, but in truth I still wasn't out – neither at home nor at work.
Celebrating at Mardi Gras
Around that time, I went to my first Mardi Gras – a huge LGBT event in Sydney. It's hard to explain the excitement of it all: planning different outfits to wear to the parade, the party and all the various other social gatherings I rocked up to. At that time the gay centre of Sydney was Oxford Street, Paddington, and it was extraordinary to see every kind of queer person walking down it.
It was the first time in my whole life that I truly felt like I fitted in. The parade was like nothing I'd ever seen with hundreds of thousands of spectators all celebrating together. A hugely life-affirming weekend.
And yet, as I recall, I told neither my work colleagues nor any of my family where I had been nor how amazing it had made me feel.
Fast forward one year and another Mardi Gras under my belt. I was 'out' to my siblings but not to my parents, though I suspect they knew. I guess it was a bit of a "Don't ask; Don't tell" policy.
Then life threw us a curve ball.
My Mum got cancer. It started in the lungs but spread everywhere.
In her last days I told her who I was. It was hard, but I am glad I did it. But it was only at her funeral that I learned from one of her good friends that Mum had always known – but wanted to wait for me to tell her myself.
I was just 23.
A sense of belonging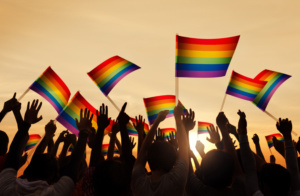 I know lots of kids choose not to share things with the parents – it's almost 'de rigeur' for teenagers. But I do regret that I was too scared to share this fundamental part of my identity. Today when I see young, queer, adults brimming full of self-confidence, I know it is in some way because of all those who trod that path before and made the decision not to hide.
But I also know there are some kids whose families – for whatever reason – still struggle to accept who they are. For them, seeing people from all walks of life celebrating life at Pride is a huge boost to realising they are not alone.
It certainly helped me.
By most measures, I have had a successful career. Maybe not linear but I have worked for great companies in Melbourne and in London, the city I now call home. Today, I do my best to bring my authentic self to work.
In short: I am upfront that I am married … to my amazing wife, Jo, and I choose never to work for an organisation that doesn't accept me for who I am. But things were not always like that for me and we all know that homophobic and transphobic discrimination still takes place across the world.
In the US
20% of LGBTQ Americans have experienced discrimination based on sexual orientation or gender identity when applying for jobs.

32% of LGBTQ people of colour are more likely to experience sexual discrimination than white LGBTQ people (13%).

22% of LGBTQ Americans have not been paid equally or promoted at the same rate as their peers
The statistics in the UK tell a similar story:
More than a third of LGBT staff (35%) have hidden that they are LGBT at work for fear of discrimination.
One in ten black, Asian and minority ethnic LGBT employees (10%) have been physically attacked by customers or colleagues in the last year.
When I started working for Barclays just 6 years ago, it was the first time I had ever worked for an organisation with an LGBT employee resource group. I got involved, amazed to know that the business wanted people to be truly open about who they were. For a few years I helped coordinate our involvement in London Pride. It was fun; it was exhausting but walking down Oxford Street with 200 of your colleagues and thousands of people cheering you on is an exhilarating experience. After one particular march a friend told me that, as a result of seeing the Barclays march, a friend of a particular colleague had finally found the courage to come out to his family
For a young guy or girl, seeing organisations of all shapes and sizes from large corporates like Barclays and the London Metropolitan Police to the Gay Man's Choir, tells them that, whoever they are, they deserve their place in the world. By hosting and celebrating Pride, we also send a message to the world that we are open, diverse and accepting of all.
But the sad facts remain that
68 countries in the world ban sex between same-sex, consenting adults

12 of these countries impose the Death Penalty as potential punishment.

Earlier this year the High Court in Singapore dismissed a bid to overturn a law that prohibits gay sex.

And, even when it is not illegal, State-sanctioned homophobic activity is on the rise in many countries – including Poland where ⅓ of towns and cities are self-declared LGBT-free zones
Our work is not done!
I describe Pride to my sister as a "Gay Christmas". It is a time of year when we outwardly and openly celebrate who we are. AND it is a time of protest. It reminds us not only of how far we have come but also how far we still have to go.
When I think back to that 20 year-old me, I know that, without Pride and the Mardi Gras, I would have struggled to find those people who looked – and felt – just like me. The people who helped me realise I have an absolute right to be here.
If only my Mum could see me now!
Happy Pride Everyone!
Author
Sarah Munro
Sarah Munro is a Product Development Leader, but like many came to Digital Identity through happenstance (a redundancy led to a new role / opportunity), but has spent the last 6 years developing Identity solutions in the UK. Sarah is considered subject matter expert on the subject, speaking at various events and has provided contributions to papers, including for the Open Identity Exchange and the World Economic Forum. Additionally, Sarah is a proud member of the LGBT community, having been part of employee resource groups and currently sits on the board of an LGBT charity, as such is very much interested in the intersectionality between women and LGBT communities. Sarah is married to Jo and has made London her home, though still prefers vegemite on her toast and was drinking flat whites a long time before they were introduced in the UK by her fellow antipodean compatriots.
---