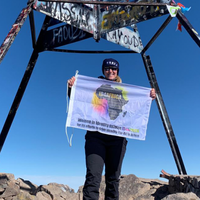 Comment by Dr. Joseph J. Atick, Executive Chairman, ID4Africa
I was most impressed when the Women In Identity team approached us to see whether they could help out for our next Annual Meeting – ID4Africa 2020. Not the usual proposal of a keynote speaker or promotion, but a plan to send one of their founder members, Emma Lindley, off to climb the highest peak in the Atlas Mountains – Mt Toubkal. She is aiming to raise funds to support a few African civil servants to attend the Annual Meeting. At an elevation just over 4000 meters, this is the highest mountain in N Africa and during the winter months it's certainly no trivial feat! But I understand Emma is not one to be easily deterred by such monumental quests.
In our own quest to advance capacity-building in Africa, we strive to make the ID4Africa Annual Meeting accessible to all Africans – regardless of gender, status or limiting factors. For this reason we maintain a free registration policy for all government delegates and cover the attendance expenses of African government delegates in need. At ID4Africa 2020, gender equity in identity systems is a core subject being covered and we are committing to having women more strongly represented at the event to ensure we have a balanced debate that reflects all voices. While ID4Africa, through its Fellowship Program, already financially supports the attendance of a large number of African women, the demand always exceeds available funds. That is why this initiative by the Women in Identity community to provide additional means for women, who would not be otherwise able to attend, is laudable.

Asked why Mt Toubkal, Emma answered "We usually do something every year to raise funds for charity (most often it's a mountain climb or a run of some kind!). This year it made sense to do something to connect the development of Women In Identity with the representation of African women in the ID sector as a whole. At Women In Identity we believe that identity solutions for everyone should be built by everyone. ID4Africa is a movement whose mission we strongly believe in. It would be absolutely amazing if my sore feet can raise the funds to give a few African women the opportunity to be represented and voice their nation's concerns at the 2020 Annual General Meeting in Marrakech, 2-4 June. The trip is self-funded, so we will be donating 100% of everything that is raised."
At Women In Identity we believe that identity solutions for everyone should be built by everyone.
---