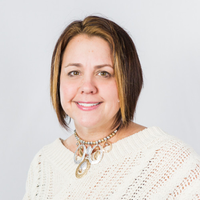 Tell us how you got involved in the world of identity technology?
I started out working for PwC, so I'm an accountant by trade. As part of my journey through public accounting, I was sent out to California where I got involved in the tech industry, auditing IPOs during the dot.com boom years. I had actually started out working in the manufacturing sector in Cleveland, Ohio, but when the firm asked for people to go out west to help with the technology sector, I put my hand up! Why not? It's a good mantra, I believe, especially for women: "Raise your hand and have a go! The more opportunities you can have to put yourself out there and learn new things, the more it helps to advance your own career."
So, I headed for California and found I loved the world of tech – it was super cool, fast-paced, and a lot of fun. After a short stint back in Cleveland, I eventually transferred over to Atlanta, Georgia so I could stay within the tech sector. From there, I moved to work for a publicly listed company as their Corporate Controller. As I progressed in my career with them, I was offered the opportunity to move out to Australia. I had a really good mentor in my boss, who encouraged me to go for the role of Regional CFO in APAC. My husband and I decided to pack everything up, take our dogs, and move half-way across the world, where we stayed for 3.5 years!
On our return to the US, I went to work for another publicly traded software company as their Controller – and with the support of another great boss, I moved up to be CFO after a couple of years.
What has been most helpful to you in your career development?
The role of a supportive boss and mentor has always been critical for me. In my experience, the best ones are super-smart and are genuinely committed to seeing their people succeed. Interestingly, at this company, the CEO offered me the role of CFO just months after I had had my second child. What was huge about this is that he told me they wanted me to do the job even though they recognized that my family circumstances meant I really couldn't travel much and would have other calls on my time. I think, as females, we often feel guilty that we have to divide our time between family and work commitments, so having someone recognize me as a "person" and not just an employee was really great.
My advice to others would be to look for the people in your business who act as advocates, who try to lift you up all the time, and who see you in the round.
And to CEOs and business leaders, my advice would be: "Look for the people with fire in their bellies! The people who want to grow regardless of their personal circumstances. And then… trust your team. You know they have the skills, so you just need to trust that they will find ways to manage their personal and professional lives."
For me, that is really what leads to true inclusion.
Was the younger Janine an ambitious go-getter? Or did something happen along the way to spark your drive?
I have never been very good at just sitting still! I've always had a vision of doing great things. Now that I have a family, I am so appreciative of my husband – we really do share all the responsibility, and I couldn't do it without him. When I had my first child, I did consider taking a back seat, but it was my Dad who said, "Are you kidding???" And, after a few months' maternity leave, even my husband was saying, "You need to go back to work!!" For good or bad, I think my background and family instilled in me a need to be working – taking ownership and accountability, and pride, in what I do. And that's a reason why I really enjoy working at BeyondTrust. I genuinely do believe they try to embody those same cultural values.
Do you think your working class background has helped you in some way to identify more with customers or users – and with other colleagues?
For sure. I think if I had not come from a more middle-class background, I might not have recognized the full diversity that exists in our society. And that is so important for anyone working in the identity sector. We have to stay really focused on the customer. Differentiation comes from thinking about the different ways a customer may want to buy or use your products. There is so much complexity in what we are trying to do in this sector that we really need to remind ourselves what it feels like to be the person at the end of the chain – the person trying to actually complete a service or a transaction.
How have you taken all these learnings into your role as COO at BeyondTrust?
What drives me today is that I know I can help people drive change. Whether that is seeing someone on my team move on to the next stage in their career or helping to transform something within the business. I am a big fan of change – it has been a huge part of my life, and I am not afraid of having to adapt. What I love is the fast pace of the world of identity, and I honestly believe that what I do can help our customers make changes that benefit everyone.
Everything that my teams do really is about stopping and asking, "How do I make this better for our customers?" Our company lives by a "customer-first" pledge, but on a day-to-day basis, we strive to answer the question, "How do I make this work?" rather than "Why can't this work?" It keeps us all really motivated. In my career as an accountant, the focus was very much on moving in a very structured way through a process, ticking boxes as we went. Now, I'm much more likely to ask "is this box necessary? What would happen if it wasn't included?"
What is the most important lesson you have you learned along the way?
I had a humbling experience earlier in my career that really helped change my trajectory. I was a Financial Controller, and I was given the opportunity to stay with that company and move into a new role in a new location. I really thought I was the best leader my team had had and was leaving them in a great place to grow from. But, in fact, my successor fed back to me that the team wasn't great at all. They couldn't take responsibility and were always looking to be "managed". What that really taught me is that I had tried to mange them by always being there – always being helpful and picking up the pieces for them. I didn't allow them to fail. It was one the hardest lessons I have ever had – basically, my leadership skills were not good enough, and I really felt I had let my team down. But from a personal growth perspective, it was definitely one of my greatest lessons. I now seek to "trust but verify" – I will always care deeply about my colleagues and want to support them, but that doesn't mean stepping in to do the job for them when things get tough.
In short: when you leave a role, you need to be sure that each individual feels good about needing to step up and do the right thing.
In your opinion, what should we be looking to change in the identity sector?
There is a lot we should challenge. If I had a crystal ball, it would be a lot easier, but there are so many different components, so many vendors that it can be really confusing. What we hear from customers is that there are a lot of players in our space, and unified platforms or the better integration of products from different vendors is essential to success. This sector is so focused on giving people access to fundamental, sometimes life-changing services that we need to be thinking much more about collaboration rather than worrying about how we compete with other vendors.
At BeyondTrust, we do think a lot about how we stay one step ahead of the fraudsters and criminals who reduce trust in our sector. We need to focus on predictive technologies so that we can stay ahead of the game and make each end user's experience much more relevant. The technologists are already saying there is so much more that we can do.
As a senior woman who has progressed through the technology sector, what are we doing well and what do we need to do better?
There are definitely fewer women, but there are more and more coming through. I don't want to hire people who look like me - different backgrounds and opinions give me so much more. But you have to want it. We need to offer an inclusive environment that covers so many different backgrounds to ensure we get that diversity of voice.
It's why I love Women in Identity – you are putting a spotlight on the women in our sector, highlighting that there are lots of opportunities in identity, and that you don't just have to be a technology geek. There are women, yes, in Marketing and HR, but also in Product, Finance, and Operations!
You're a sponsor of Women in Identity; how do you encourage your own teams to embrace diversity?
Recruitment – we focus on bringing in a broad range of candidates in the early stages and will continue to develop this.

Look for diversity of thought – encourage everyone to speak and listen to those voices that are often quiet.

My teams are already quite diverse in terms of gender and ethnicity. My own direct reports are 50:50 male and female. I hope that other females are encouraged by seeing me in a leadership role.

Often, it is the educational background that can stifle diversity. I went to a smaller private university versus a larger, more recognized, tier-one educational institution in the United States. I believe your college experience and degree are a part of the equation for success, but it's what you do later on and how you handle life's experiences that really counts. We try to look for drive, hunger, passion, and a match to our corporate culture—not just college grades.
What advice would you give the younger you – and others who feel under-represented in our sector?
Find a mentor. And, if you feel you can, offer yourself to others as a mentor

Put yourself out there. Spend time building relationships – see networking and those "water cooler" moments as part of developing you. Don't just focus on doing the tasks you get paid for.

Know your boundaries. Be open and accepting if you have other responsibilities outside of work. Don't try to hide them.
What are you reading?
With work and family commitments, I only have time for audio books when I'm at the gym, but I'm currently reading Impact Players by Liz Wiseman - which focuses on the themes of adaptability and how to be impactful in a changing world.
Follow Janine on LinkedIn and @BeyondTrust on Twitter
Read more about BeyondTrust's sponsorship of Women in Identity at https://www.womeninidentity.org/sponsors
---